Adam's Taphouse and Grille
Menu
Menu selections may vary slightly by location. Please call your local Adam's for specials and specific menu items.
Pricing and descriptions subject to change.
Ask your server about our Seasonal Chef's Selections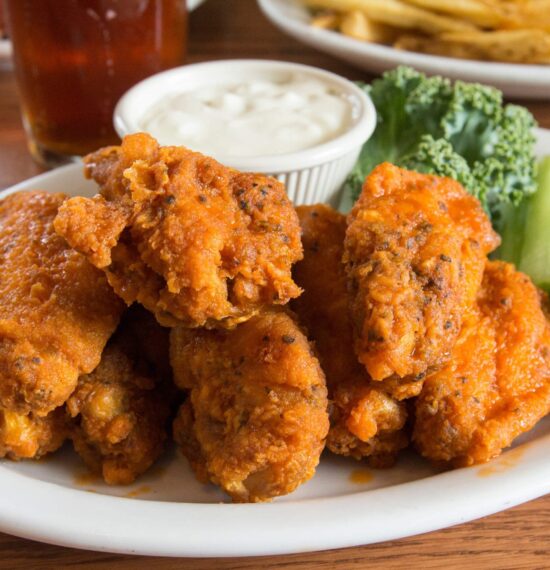 WINGS
Adam's Wings – $14.99
With Buffalo Sauce, Old Bay, or BBQ sauce, served with celery and Bleu Cheese dressing
Adam's Gator Wings – $16.99
Oven baked, grilled, then tossed in Hawg Sauce served with celery and Ranch dressing
Adam's Boneless Wings – $14.99
10 boneless chicken wings tossed in Buffalo sauce, BBQ sauce, Old Bay or Hawg sauce
SOUPS & SALADS
SOUPS OF THE DAY – Priced Daily
Made from scratch on the premises
ADAM'S FAMOUS CHILI – 6.99
Our secret recipe
Add cheddar cheese and onions – 2.50
HOUSE SALAD – 6.99
Mixed field green salad
CAESER SALAD – 7.99
Crisp romaine with Caesar dressing, Shredded Parmesan cheese, and croutons
ENTRÉE SALAD ADD-ONS
Entrée Salads are served with Breadstick and your choice of the following:
Chicken – $7.00
Steak – $12.00
Tuna – $11.00
Cajun Chicken – $8.00
Buffalo Chicken – $8.00
Crab Cake – Market Price
Shrimp – $11.00
Portobello – $7.00
Salmon – $14.00
Salad Dressings: Ranch • Blue Cheese • Honey Mustard • Peppercorn Parmesan • Balsamic Vinaigrette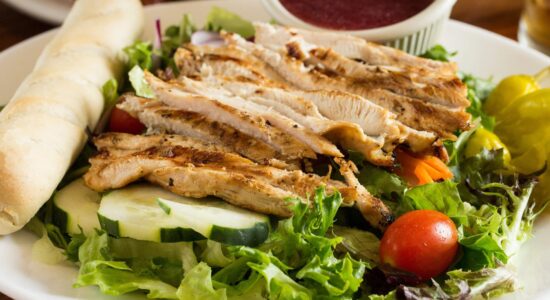 Adam's Grilled Chicken Breast Salad
APPETIZERS
HOT CRAB DIP – Market Price
Served with a baguette
CRAB PRETZEL – Market Price
Our homemade crab dip served over an oven-baked pretzel
NACHO'S SUPREME – $12.99
Tortilla chips topped with beans, chili, jalapeños and cheddar cheese
Add Blackened Chicken, Smoked Beef Brisket or Pork BBQ – $4.00
BACON CHEDDAR SKINS – $11.99
Potato Skins topped with bacon & cheddar cheese
STEAMED SPICED SHRIMP
½ Pound – $14.99
1 Pound – $23.99
SPINACH & ARTICHOKE DIP – $10.99
Topped with salsa and served with tortilla chips
FRESH MOZZARELLA – $9.99
Lightly breaded and fried served with marinara sauce
CHICKEN TENDERS – $9.99
With honey mustard for dipping
Dipped in Buffalo sauce and served with Blue Cheese or Ranch dressing – $10.99
QUESADILLAS
Cheddar cheese with sour cream & salsa – 10.99
Blackened Chicken with cheddar cheese, tomatoes, and onions – $12.99
Buffalo Chicken with cheddar cheese, tomatoes, and onions – $12.99
Vegetables with cheddar cheese, tomatoes, and onions – $12.99
CHIPS & DIP – $9.99
Homemade queso & salsa
BUFFALO FRIED RIBS – $16.99
4-6 bones deep fried and tossed in Adam's Buffalo sauce
RAW VEGGIES & DIP – $10.99
Carrots, celery, cucumbers, broccoli, tomatoes & peppers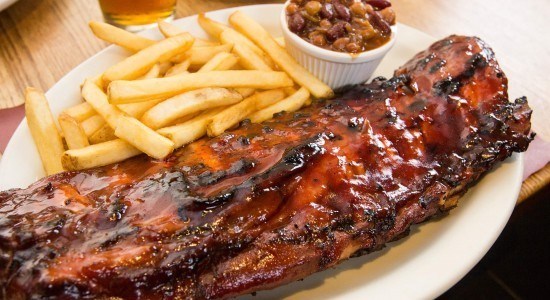 Adam's Whole Rack Platter
BBQ'd RIBS, CHICKEN AND SHRIMP
All BBQ Ribs, Chicken & Shrimp Entrees are served with your choice of two sides and dinner rolls upon request
ADAM'S RIBS
BBQ Baby Backs
Full Rack – $25.99
Small Rack – $20.99
BBQ CHICKEN – $14.99
A slow cooked Half Chicken
BBQ RIB & CHICKEN COMBO – $27.99
Small Rack of Ribs & a Half BBQ Chicken
BBQ SHRIMP DINNER – $23.99
Nine skewered Shrimp wrapped in bacon
BBQ SHRIMP & RIB – $28.49
Three BBQ Shrimp & a Half Rack of Ribs
BBQ SHRIMP & CHICKEN – $22.49
Three BBQ Shrimp & a Half BBQ Chicken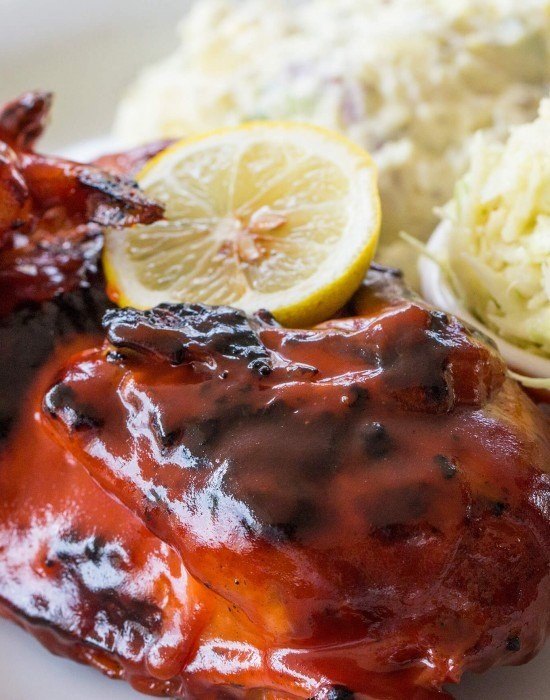 Adam's Half Chicken Platter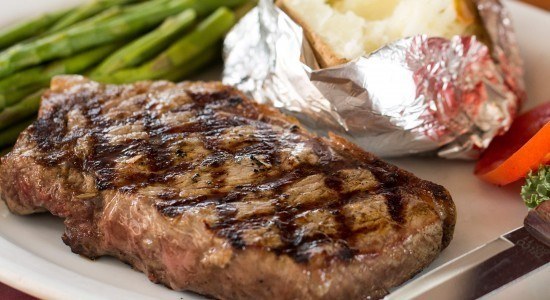 STEAKS, SEAFOOD & SUCH
Served with two sides ~or~ a salad and one side of your choice. Dinner rolls upon request.

U.S.D.A. CHOICE HAND CUT STEAKS &
FRESH HOMEMADE CRAB CAKES
NEW YORK STRIP STEAK – $29.99
A 14 oz. cut of aged choice beef
PRIME RIB EYE STEAK – $29.99
A 14 oz. cut from a slow-roasted prime rib and grilled
CENTER CUT FILET – $27.99
An 8 oz. cut from the tenderloin
PORK CHOP RIB EYE – $17.99
Boneless 8 oz. cut grilled with your choice of BBQ, Bourbon sauce, or House marinade

ADAMS SMOKED BEEF BRISKET – $19.99
8 oz. of our dry-rubbed smoked brisket drizzled with our homemade tangy Bourbon smoke sauce
MARYLAND CRAB CAKES – Market Price
Two 5 oz. Maryland Crab Cakes
BBQ BY THE BAY – Market Price
Three bones of BBQ Ribs, Three BBQ Shrimp and a 5 oz. Crab Cake
STEAK & CAKE – Market Price
8 oz. tenderloin served with a 5 oz. Maryland Crab Cake
RACK & CAKE – Market Price
Half Rack of BBQ Ribs served with a 5 oz. Maryland Crab Cake
GRILLED SALMON – $21.99
8 oz. fillet in a citrus marinade then grilled to your specifications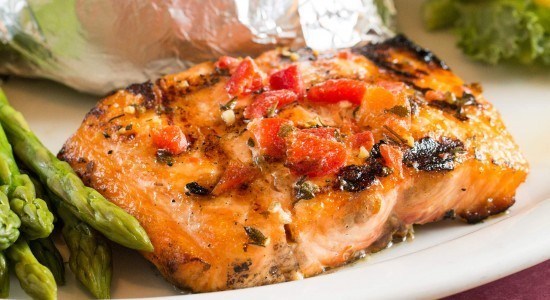 Adam's Fresh Grilled Salmon
CHEF'S SELECTIONS
PAN-SEARED AHI TUNA – $15.99
Blackened -or- seasoned with salt and pepper, served over a seaweed salad, garnished with Siracha, Wasabi and a Sesame Ginger Glaze
PAN-SEARED PETITE SALMON – $15.99
4 oz. Salmon Fillet served over mashed sweet potatoes and the vegetable of the day 
CROCK OF MAC – $7.49
Fresh homemade Mac & Cheese with cheddar cheese and our homemade queso
Crock of Mac Add-Ons:
Buffalo Chicken – $2.50
Cajun Chicken – $2.50
Chili – $2.50
Smoked Brisket – $3.50
Shrimp – $4.50

Adam's Pulled Pork Sandwich
A LA CARTE
FULL RACK RIBS – $21.99
SMALL RACK RIBS – $16.99
CRAB CAKE – Market Price
HALF CHICKEN – $10.99
Adam's Bourbon Beef Brisket
SANDWICHES
All sandwiches served on a brioche roll with French Fries & Coleslaw ~or~ one side of your choice.
ADAM'S FAMOUS PULLED PORK BBQ – $11.99
Slow roasted, piled high and mixed with our Homemade BBQ sauce or Pig Pickin' sauce
ADAM'S SMOKED BEEF BRISKET – $14.99
Sliced and piled high and topped with a choice of our Homemade Smoke sauce, Bourbon sauce or BBQ sauce
ADAM'S BURGER – $13.99
8 oz. fresh ground chuck
Add cheddar, swiss, provolone or American cheese , $1.00
THE NEW YORKER – $18.99
6 oz. New York Strip with mushrooms, onions & provolone cheese on a toasted sub roll 
THE PRIMER – $18.99
A one half inch cut of prime rib with provolone cheese
MARYLAND CRAB CAKE – Market Price
5 oz. of lump back fin, "All killer no filler" the East-Port-o Rican Way
GRILLED AHI TUNA – $16.99
A 6 oz. "Dolphin Safe" steak grilled with a spicy lemon butter
GRILLED CHICKEN – $12.49
6 oz. breast with Adam's BBQ sauce, House marinade, and Ranch dressing, or with Cajun seasoning 
With Adam's BBQ sauce and topped with ham and swiss- $13.49
BUFFALO CHICKEN – $13.49
Lightly breaded, fried & dipped in Adam's Spicy Wing sauce, served with bleu cheese
PORTOBELLO SANDWICH – $12.99
Grilled marinated portobello mushroom topped with roasted red peppers, fresh mozzarella, a balsamic drizzle and a pesto spread
SIDES
Coleslaw – $2.75
Vegetable of the Day – $3.49
Potato Salad – $3.49
Broccoli – $3.49
Applesauce – $2.75
Baked Potato – $3.49
Sweet Potato – $3.49
Mashed  Potatoes – $3.49
Mashed Sweet  Potatoes – $3.49
Wild Rice – $2.75
Baked Beans – $3.49
Cornbread (2) – $2.99
French Fries – $2.75
Onion Rings – $3.75
Dinner Rolls (3) – $2.99
KIDS MENU
Served with French Fries or Applesauce and one soft drink.
Mac and Cheese – $7.99
Hot Dog -$6.99
Hamburger – $7.99
Cheeseburger – $7.99
Pork BBQ Sandwich – $7.99
Chicken Tenders – $9.99
BEVERAGES – $3.00
Coke, Diet Coke, Sprite, Ginger Ale, Root Beer, Pink Lemonade, Iced Tea, Coffee, Hot Tea,
Hot Chocolate, Milk, Assorted Juices
• Free refills on coffee, tea and soda •
*Consuming raw or under cooked meat or poultry may increase your risk of contracting a food-borne illness.
An 18% gratuity will be added to parties of 6 or more.
We accept Visa, Mastercard, American Express & Discover. Please, No personal checks.
DESSERTS
ADAMS BAKED APPLE PIE
Fresh baked apple pie- $4.99
served a la mode- $6.99
FUDGE BROWNIE SUNDAE – $6.99
Warm fudge brownie served with your choice of ice cream and topped with whipped cream, caramel and chocolate sauce. 
KEY LIME PIE – $4.99
Our homemade cool and creamy, tangy sweet treat
SMITH ISLAND LAYER CAKE – $6.99
Layers upon layers of moist cake and icing with seasonal filling… Maryland's state dessert
BOURBON PECAN PIE – $5.99
Georgia pecans and Kentucky bourbon baked in an all butter shortbread crust 
A la mode any dessert $1.99